What!
Wait a Second…
You didn't get that Cuckoo clock you wanted for Christmas?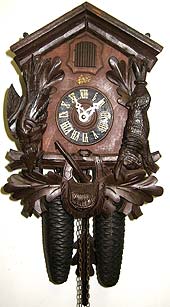 Shatz-Hunter Cuckoo
What you should know about Cuckoo Clocks.
Come on in to Waterford Clock Co and see what Great AFTER Christmas deals we have!
We are clearing out our winter stock to make room for the new spring merchandise!
We offer repairs on most clocks too!
So if you have a clock you were hoping a family member would get fixed for you.
Take the bull by the horns, bring it on in and see what our clock technician can do for you.
And as always your in shop Estimates are free!
Service calls available on Mondays.